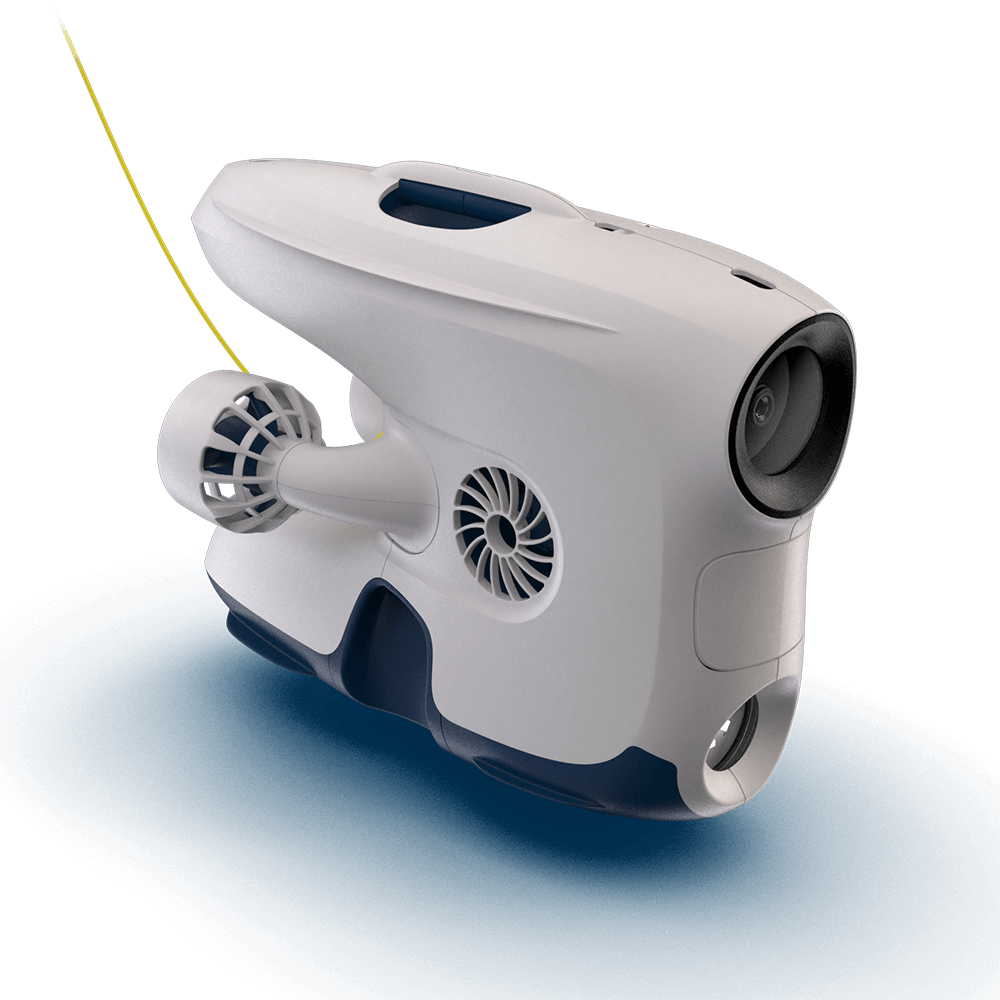 Pre-order now
and be among the first to receive a Blueye Pioneer
Estimated shipping 2018. Price does not include shipping or local taxes or fees. You may cancel your order at any time and receive full refund. Outstanding amount to be paid before product is shipped.
What's in the box
Pioneer Drone
Wireless Surface Unit (WSU)
75m cable (upgradeable for deeper dives)
Blueye wireless controller
Battery charger
Blueye App
Fill in your details below
Tech specs
This is the current specifications for the product. As we develop the product towards shipping we will update and improve the spec accordingly.
DRONE

Hull design

Hydrodynamic and hydrobalanced hull for stability and performance in ocean conditions. Engineering plastic and rubber protections that withstand impact.

Pressure rating

150 m.

Weight

Less than 8 kg.

Speed

At least 2 m/s (4 knots).

Run-time

At least 2 hrs normal operation.

Thrusters

4 powerful thrusters, 4 x 350 W.

2 rear, 1 vertical center, 1 latheral.

Automation

Auto heading.

Auto depth.

Camera

Full HD 1080p/30fps, wide angle lens.

Search Light

Powerful LED below camera.

Fittings for extra lights as payload.

Sensors

Inertial Measurement Unit (IMU) with 3-axis gyro and 3-axis accelerometer.

Depth sensor.

Magnetometer (compass).

Temperature (inside and outside).

Payload

Standard fittings for payload on both top and bottom side of drone.

Software

Remote update of drone software.

WIRELESS SURFACE UNIT (WSU)

Wireless transmitter

Wifi router for wireless connection to smartphones or tablets. Multiple smartphones may connect for a shared live experience.

Wireless range

At least 30 m.

Cable

Thin and strong cable optimized for use with ocean drones.

Cable is replaceable for easy handling and upgrade.

Cable length

75 m.

Possible to upgrade to longer cable.

DRONE CONTROLLER
Controller

Wireless drone controller for iOS and Android smartphones and tablets.

BLUEYE APP
App

App for android/iOS smartphone/tablet.

Setup & control drone, manage and share dive data and recordings.

OTHER
Charger

Charger for drone, WSU and drone controller.